Australia
International MPhil or PhD Scholarships in Computational Single-Atom Catalysts, 2024/2025, Australia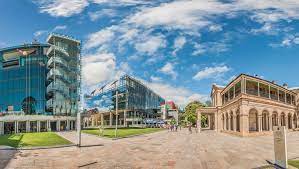 Queensland University of Technology (QUT) is a lively and forward-thinking place with young energy and a worldwide outlook. The university is really committed to giving students practical, hands-on experiences that connect what they learn in class to the real world. This helps students prepare for their future careers.
This special way of teaching makes sure that when students graduate from QUT, they are well-prepared for the jobs of the future. Going to QUT means you get a top-notch education in the middle of Brisbane, a city full of life, modern beauty, and many different cultures coming together.

Advertisement

As Australia's third-largest city, Brisbane offers an urban panorama teeming with vitality, an alfresco-centric lifestyle, a community of affable and hospitable locals, and awe-inspiring natural marvels. Within this diverse student community, comprising over 50,000 individuals, including international students hailing from 119 distinct countries, a profound sense of belonging and camaraderie eagerly awaits any individual who joins the QUT family.
Scholarship Description:
Host University: Queensland University of Technology;
Host Country: Australia;
Study Level: PhD Level;
Scholarship Type: Partial Funded;
Scholarship Worth: 30,000$;
Eligible Countries: International Students;
Subjects Available: Science, Engineering, Technology and Mathematics;
Application Deadline: January 31st, 2024
The International MPhil and PhD Scholarships in Computational Single-Atom Catalysts have now opened the doors to all international PhD aspirants across the domains of Mathematics, Technology, Engineering, and Science. The objective is to offer a launchpad for pursuing academic pursuits at the prestigious Queensland University of Technology in Australia.
The chosen candidate will become an integral part of a research collective dedicated to the realm of Low Dimensional Sustainable Energy. This collaborative entity seamlessly blends experimental and theoretical expertise to co-create low-dimensional materials tailor-made for sustainable energy applications. Under the expert guidance of Associate Professor Ting Liao, the selected individual will thrive in a dynamic milieu, collaborating with peers from the School of Mechanical, Medical, and Process Engineering, in conjunction with the Center for Materials Science.
At the heart of the MPhil or PhD project lies the evolution of multifaceted single-atom catalysts on foundations with two dimensions. The ambit encompasses optimizing electronic coupling states, achieving optimal coverage of single-atom catalysts (SACs), and enhancing the performance of charge transfer. The project also involves engineering surface modifications and achieving nanoscale coverage on substrates to bolster stability and catalytic properties, all aligned with the imperatives of sustainable energy conversion and storage. The project's pioneering trajectory is underpinned by an advanced computational approach rooted in Density Functional Theory.

Advertisement

Scholarship Benefits:
Queensland University of Technology extends a scholarship with a value of $30,000, aimed at alleviating the financial burdens for the selected candidate.
Eligibility Requirements:
To be considered for this opportunity, applicants must meet the following eligibility requirements:
Applicants should possess a domestic classification.
Prospective candidates must have already identified or intend to identify a research project within the ambit of the School of Mechanical, Medical, and Process Engineering, affiliated with CBT.
As part of the Expression of Interest submission, applicants are expected to propose a supervisor and initiate communication with them.
A robust academic history, including a top-tier bachelor's degree in biomedical sciences or first-class honors, coupled with evidence of substantial research contributions and relevant industry exposure.
Supporting Documents:
Applicants aspiring for the International MPhil or PhD Scholarships in Computational Single-Atom Catalysts at Queensland University of Technology are required to furnish supporting documents alongside their application. These typically encompass:
Official academic transcripts or records spanning all prior undergraduate and postgraduate endeavors, delineating courses undertaken, grades secured, and overall academic performance.
Copies of degree certificates or completion certificates for all attained qualifications, spanning both undergraduate and postgraduate domains.
A comprehensive Curriculum Vitae (CV) spotlighting the applicant's academic journey, research exploits, publications (if applicable), pertinent work involvements, and any other remarkable achievements or qualifications.
A detailed research proposal encapsulating the applicant's chosen niche within computational single-atom catalysts. The proposal should encompass research objectives, methodologies, envisioned contributions to the domain, and a pragmatic timeline for completion.
International applicants whose native language isn't English typically need to demonstrate English language proficiency, generally through standardized test scores like IELTS or TOEFL.
Two to three letters of recommendation from academic referees well-acquainted with the applicant's research acumen, academic potential, and suitability for the program.
A personal statement or statement of purpose through which applicants convey their impetus for delving into research concerning computational single-atom catalysts. This document could also delve into their career aspirations and how the scholarship aligns seamlessly with their ambitions.
Application Process:
To initiate the process, applicants should initiate contact by sending an email to Associate Professor Ting Liao. This email should encapsulate details about their academic and research voyage, an exposition of their motivation for delving into the specified domain, and an indication of their keen interest in the scholarship opportunity. It is pivotal to append a CV along with the email.
Official website:
For more information, please visit the university's official website: https://www.qut.edu.au/study/fees-and-scholarships/scholarships/computational-single-atom-catalysts-mphil-or-phd-scholarship